Easter Appetizers – Deviled Egg Tulips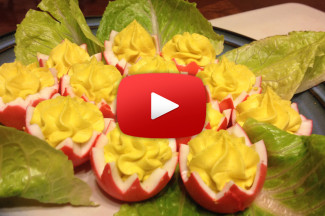 Whether for Easter or just for spring, these deviled eggs that look like tulips are sure to be a hit. Everyone loves deviled eggs, and they are particularly inexpensive to make (especially around Easter when eggs are on sale).
In the following video I show my technique for my spring-time deviled eggs. I developed it before there were internet videos. I'm sure I was inspired by a magazine or TV show, but I'm proud to have figured it out myself.
To start, you'll need to hard-cook and peel your eggs. I recommend steaming. I tried it for the first time using these directions for steamed eggs on Fresh Eggs Daily. I don't think I've ever had eggs peel so easily (especially not fresh ones!). I doubt I'll ever go back to boiling.
Once you've cooked and cooled the eggs, you'll want to soak them in a mixture of food coloring and water. You don't need to add other ingredients, the whites will color just fine. You can adjust the amount of food color and the length of time you soak your eggs to get the color you want. (I was out of red food coloring so I used unsweetened Wild Cherry KoolAid mixed with water. Perhaps 1/16 of a tsp to 2 cups of water. The eggs have a hint of the wild cherry, which I'm not fond of, so stick to food coloring if you have it around.)
Once the eggs are colored, the video will take you the rest of the way…
Enjoy! And Happy Easter to you and yours!