Flour Tortillas
Valerie Cudnik (aka Dolly Domestic)

Prep Time: 40 minutes - Cook Time: 3 minutes Servings: 36

A good friend taught me how to make these when I was a teenager, he'd learned from his mother. Thanks, Jimmy!
---
6 cups All-purpose flour
1 tsp Baking powder
½ tsp Salt
½ cup Vegetable shortening — cut into small pieces
2 cups Warm water (about — you may need a little more or less)
---
Place the flour in the bowl of a mixer. Add baking powder and salt. Mix well. Add shortening. Mix on low while slowly adding water. Mix on low for 90 seconds or until well mixed.
Scrape the dough out of the bowl and onto a floured surface. knead for about 1 min – just enough to make sure it's a ball of dough and not bits and pieces. Divide dough into 2 equal portions. Cover with plastic wrap, set aside at room temperature for 10-20 minutes. Divide each half into 8 equal portions. Lightly flour a work surface and rolling pin. Roll each ball into an 8-inch round. Stack rounds on baking sheet with plastic wrap between each tortilla. Let set for 10 minutes.
To cook, grill in a dry frying pan until lightly brown and slightly bubbly. (No butter or grease!) Let cool and use or freeze.
---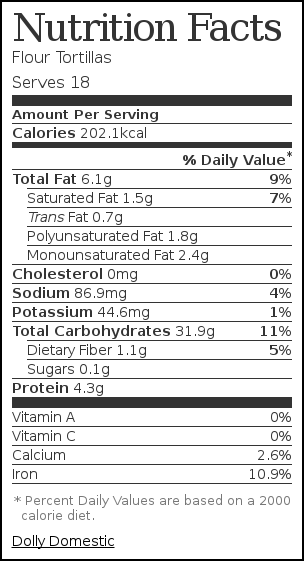 https://dollydomestic.com/recipes/flour-tortillas-recipe/

© Dolly Domestic. All rights reserved.