I don't think "couponing" is a real word. Sort of like "garage saleing."
Anyway, using coupons can be a powerful weapon in your arsenal of money
saving techniques.
My favorite sites for couponing are Hot Coupon World and Money Saving Mom. By using these two sites I get the latest on the deals out there, plus lots of other info. Hot Coupon World has more specific information (including a coupon database!), Money Saving Mom has great explanations on couponing techniques.
The real power in using coupons comes from using coupons with items that are on sale. When you double (or triple) those coupons, you can really save big.
Here's an example. This was today's actually shopping. (7/24/08 Harris Teeter, Hanbury Rd.) Harris Teeter is having a "triples" sale, today thru Saturday. They do them every 8 to 12 weeks. As you can see I have a lot of multiples; I get coupons from my friends and neighbors.
Our total was only $39.49. We bought: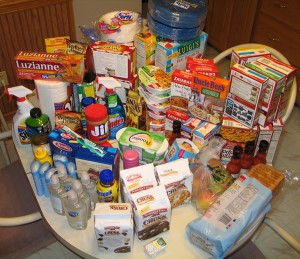 5 boxes of Smart Balance microwave popcorn

12 boxes of hamburger helper (yes, we like it)

5 bottles of liquid dial hand soap

1 can of scrubbing bubbles

1 bottle of Windex

6 Suave deodorants

1 bottle of Shout stain remover

1 box of Uncle Ben's wild rice mix

1 bottle of French's mustard

2 boxes of tic tacs

1 can of Skintimate ladies shave gel

2 bags of Werther's Original candies

1 toothbrush

2 rolls of paper towels

1 can of Bertolli alfredo pasta sauce

2 boxes of Barilla pasta

1 box of Luzianne tea

1 bag of Snyders of Hanover pretzel nibbler

1 6-pk of Dole fruit parfaits

1 bottle of Nestle chocolate syrup

1 bottle of Nestle chocolate milk

6 Hormel complete meals (these ended up being only 4 cents each!)

3 jars of Jif peanut butter

4 boxes of Luigi's Italian Ice

4 packages of Pepperidge Farms chocolate chunk cookies

2 twin packs of Promise buttery spread

5 bottles of Frank's Hot Sauce

5 boxes of Lipton tea bags

1 bottle of PowerAde

2 boxes of Jell-o Singles

1 loaf of cheap white bread (perfect for tomato sandwiches made with home-grown
tomatoes)

2 pounds of peaches

2 packs of Hefty foam plates

3 packs of Hefty foam bowls
Oh, and we also got three $1.50 catalina's for $$ off hamburger, chicken or tuna, and a few catalina's for some free sports drinks. (catalinas are the coupons that print out at the register).
Yup. All that for UNDER $40. Do I know how to shop, or what?