I spent a good deal of time with the list I made yesterday (and updated today). I still think I got my money's worth.
I made 3 trips into Harris Teeter today.
My first trip the total was MINUS 49 cents, so I had to grab something to bring it up to the positive side (thus the Reeses in the picture), for a total of 35 cents.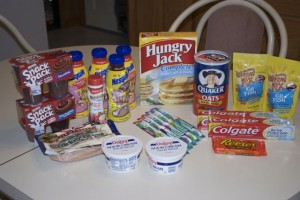 My next trip in cost a bit more, of course I got more stuff. Usually it's prudent to use all your free or free with overage coupons on the first trip because they will run out of some stuff. The second trip cost $2.04. Here's what I got:
The last trip was where I spent some real money… $16.03. I didn't take a picture of this stuff separately because I didn't think it was that impressive. But all together it is. My total for everything in this next picture was .35 + 2.04 + 16.03 = $18.42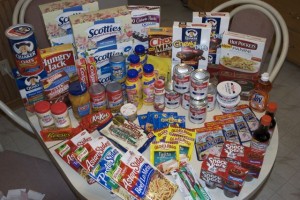 The question is, how much of this would I have bought without the coupons. Most of it, actually. Probably not the cat treats, though, since I don't have a cat! (Those are going to the Chesapeake Humane Society.) I doubt I would have bought the Nesquik chocolate & strawberry milk… but those actually netted me a profit, so my kids get the benefit. As a general rule pre-packaged stuff, mixes, etc., aren't a frugal choice, but when the cost is pennies? There is a value to time as well.
This is how my stuff broke down:
| | | | | | | |
| --- | --- | --- | --- | --- | --- | --- |
| Item | Price | Q Value | Net Cost | Unit Price | Qty | My Total |
| Beechnut Juice blend | 1.00 | $0.75 | ($1.25) | -1.25 | 1 | ($1.25) |
| Various Colgate toothpastes – | 1.50 | 0.75 | ($0.75) | -0.75 | 2 | ($1.50) |
| Nesquick – BOGO – 1.79 | 0.90 | 0.5 | ($0.61) | -0.61 | 4 | ($2.42) |
| Daisy Sour Cream | 1.00 | $0.35 | ($0.05) | -0.05 | 2 | ($0.10) |
| Meow Mix Treat | 1.89 | 0.75 | ($0.36) | -0.36 | 2 | ($0.72) |
| Land O' Frost Premium Oven Roasted Turkey Breast | 3.99 | 0.55 | $2.34 | 2.34 | 1 | $2.34 |
| Hungry Jack pancake mi | 2.49 | 0.55 | $0.84 | 0.84 | 1 | $0.84 |
| GUM toothbrush | 2.29 | 0.75 | $0.04 | 0.04 | 5 | $0.20 |
| Hunt's Snack Pack 4pk | 1.00 | .75/2 | $0.50 | 0.50 | 2 | $1.00 |
| | | | | | | |
| | | | | | | |
| Dole fruit Jars | 2.50 | 0.55 | $0.85 | 0.85 | 1 | $0.85 |
| KitKat | 0.79 | 0.25 | $0.04 | 0.04 | 4 | $0.16 |
| Bumble Bee Tuna Pouch 3 oz. | 1.34 | 0.55 | ($0.32) | -0.32 | 4 | ($1.26) |
| Quaker Oats 18oz | 1.50 | 0.5 | $0.00 | 0.00 | 1 | $0.00 |
| Ortega Seasonings mixes | 1.19 | $0.75/2 | $0.13/2 | 0.07 | 4 | $0.26 |
| Old El Paso Taco Mix. | 0.79 | .75/2 | ($0.67) | -0.67 | 4 | ($2.68) |
| French's French fried onions 2.8oz | 1.99 | $0.75 | ($0.26) | -0.26 | 2 | ($0.52) |
| French's potato sticks | 0.60 | $0.40 | ($0.61) | -0.61 | 2 | ($1.21) |
| Nabisco 100-calorie chewy granola bars | 2.50 | 0.7 | $0.40 | 0.40 | 2 | $0.80 |
| Underwood's deviled ham | 1.69 | 0.5 | $0.19 | 0.19 | 1 | $0.19 |
| Scotties 1.59 BOBO | 0.79 | .50/3 | .87 for 3 | 0.29 | 3 | $0.88 |
| | | | | | | |
| | | | | | | |
| Kikkoman Teriyaki Sauce (10 oz) – | 2.17 | 0.55 | $0.52 | 0.52 | 2 | $1.04 |
| Jello Singles | 1.99 | 0.5 | $0.49 | 0.49 | 1 | $0.49 |
| Carnation milk 2x 12oz cans | 1.19 | .50/2 | 1.08/2 | 0.54 | 6 | $3.24 |
| Knorr Lipton Sides – | 1.49 | .75/2 | .57 each | 0.73 | 4 | $2.92 |
| Hot Pocket Pannini | 2.99 | $0.75 | $0.74 | 0.74 | 1 | $0.74 |
| Coffee Mate 16 oz | 2.29 | 0.5 | $0.79 | 0.79 | 2 | $1.58 |
| Hormel Natural Chicken Strips 8oz | 2.50 | 0.55 | $0.85 | 0.85 | 2 | $1.70 |
| Quaker Chewey Granola Bars | 2.00 | .75/2 | .88 each | 0.88 | 4 | $3.52 |
| Joy Ultra | 1.39 | $0.30 | $0.49 | 0.49 | 1 | $0.49 |
| Quaker Instant Oatmeal | 2.50 | 0.5 | $1.00 | 1.00 | 1 | $1.00 |
| Chex Mix Bars | 2.99 | $0.50 | $1.49 | 1.49 | 2 | $2.98 |
I do get a kick out of this. Plus, I enjoy sharing this whole "couponing on steroids" concept with my family and friends. Times are a bit lean these days, so it's a wise bet to spend a little time to save a LOT of money. (It sure is nice to live in an area that has stores that double & triple coupons!!)