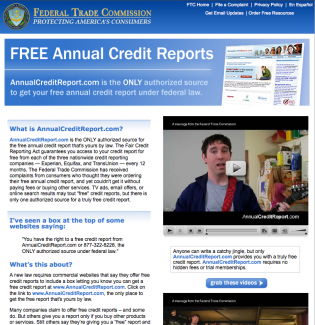 Even though the law requires it, there are some unscrupulous companies out there that mislead you into thinking you need to know your credit SCORE, which certainly has it's place, but it's not necessary when you're just doing an annual checkup on your credit report to check for accuracy. They will also try to sell you all manner of other services, many of which are a total waste of money.
Most of the following has been swiped directly from the FTC web page on the subject: http://www.ftc.gov/bcp/edu/microsites/freereports/index.shtml
Why should I request (and check) my credit report?
Because the information in your credit report is used to evaluate your applications for credit, insurance, employment, and renting a home, you should be sure the information is accurate and up-to-date.  In addition, monitoring your credit is one of the best ways to spot identity theft.  Check your credit report at least once a year to correct errors and detect unauthorized activity.
Federa law requires commercial websites that say they offer free credit reports to include a box letting you know you can get a free credit report at www.AnnualCreditReport.com. Click on the link to www.AnnualCreditReport.com, the only place to get the free report that's yours by law.
Many companies claim to offer free credit reports – and some do. But others give you a report only if you buy other products or services. Still others say they're giving you a "free" report and then bill you for services you have to cancel. If you go to www.AnnualCreditReport.com and follow the prompts for your free credit report, you can be sure the reports you get really are free.
AnnualCreditReport.com is the ONLY authorized source for the free annual credit report that's yours by law. The Fair Credit Reporting Act guarantees you access to your credit report for free from each of the three nationwide credit reporting companies — Experian, Equifax, and TransUnion — every 12 months. The Federal Trade Commission has received complaints from consumers who thought they were ordering their free annual credit report, and yet couldn't get it without paying fees or buying other services. TV ads, email offers, or online search results may tout "free" credit reports, but there is only one authorized source for a truly free credit report.
During a class on protecting oneself from identity theft the instructor offered an interesting idea on how to monitor your credit year-round. Since you are entitled to a free report from each of the three big credit reporting agencies (Equifax, Trransunion and Experian), rather than getting them all at once, just order one, then 3 months later, order the next one, then 3 months later the last, then start the series again in 3 months.